Issue #54 - Ivan Sapozhnik
Happy Monday, everyone!
We made it to Issue #54! Thank you to everyone who read last week's issue ❤️
The first week of the three week celebration of Indie Dev Monday's one year anniversary is over! That was kind of a mouthful 😛
If you missed the news last week, I released three official Indie Dev Monday shirts for sale. You can go check them out at indiedevmonday.com/merch. All profits ($6 from each shirt) will be donated to Girls Who Code.
The following companies have also agreed to match donations to Girls Who Code from the first three weeks of sales 🙌
This means that for every shirt you all order, $30 will be donated to Girls Who Code 🤯
Our totals for Week 1 are…
Shirts sold: 89
Amount to be donated: $3,204
I can't thank all of you enough who have already ordered and helped support Girls Who Code ❤️ All shirt profits will always be donated but make sure to order in the next two weeks to take advantage of the donation matching!
One Year Anniversary Celebration
Order shirts at 👉 indiedevmonday.com/merch
More details at 👉 indiedevmonday.com/one-year-anniversary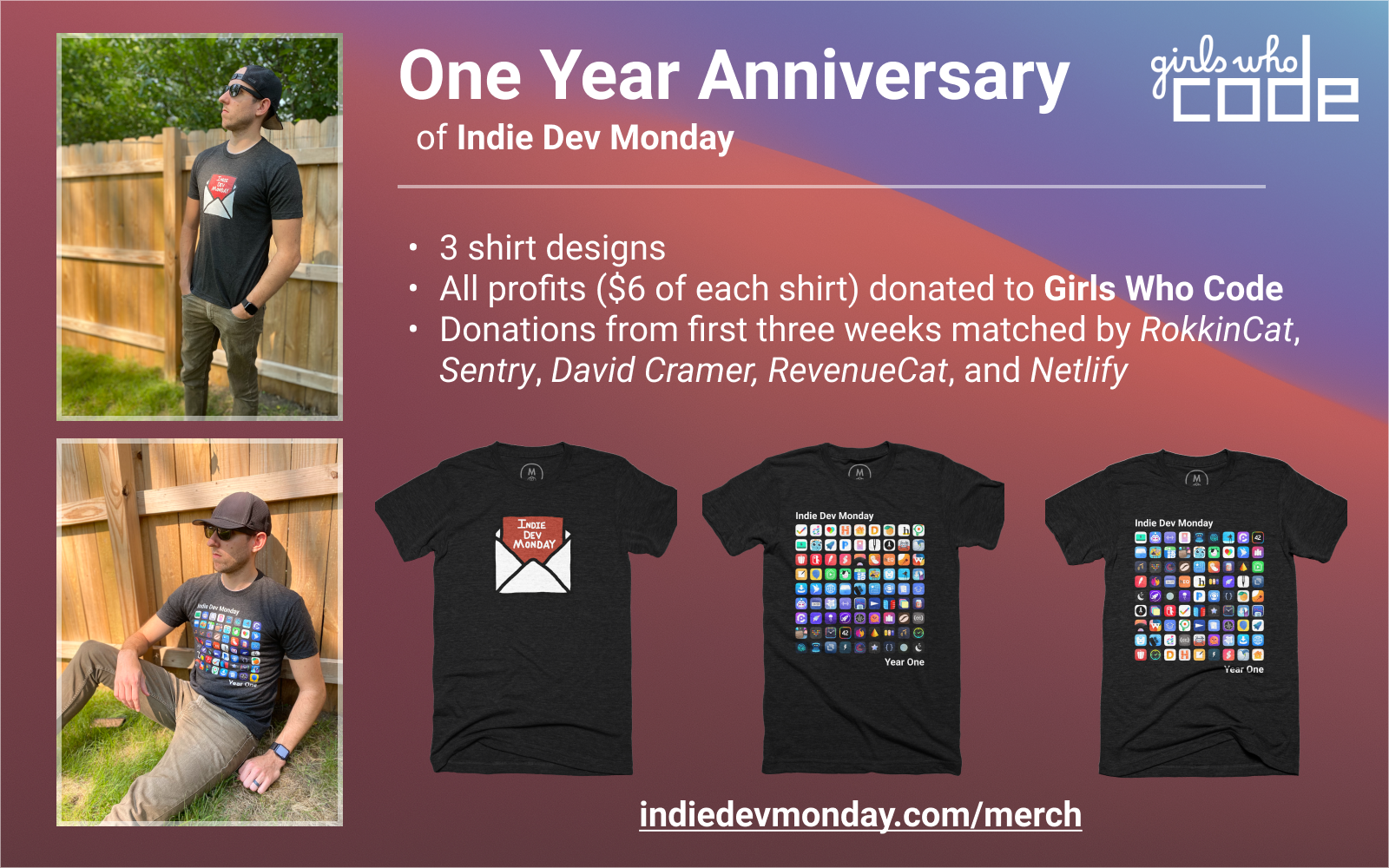 ---
Today's Spotlighted Indie Devs
📆 Today I'm featuring Ivan Sapozhnik.
Ivan
is the creator of
Pasty
.
Pasty is a clipboard manager for macOS with extended search possibilities! You can copy plain texts, rich texts, screenshots, files, and many other content types. Keep your clipboard items for an unlimited time, organize them in spaces, black-list apps that Pasty should ignore, and many other great features! A utility like Pasty is something I didn't know I needed 😅 I saw Ivan's launch and it was an instant download for me. Pasty is really well done. It even almost feel native to macOS! I've realized I copy a lot of things to my clipboard throughout the day and I don't always want to copy over what is already in my clipboard. Pasty allows me to see my copy history and organize it into spaces if I want. Go give Pasty a download today to improve your clipboard experiences on macOS 🙌
👉 Please make sure to follow them or support them anyway you can! 😇 I'm excited to share their indie dev stories.
---
Indie Devs
---
Ivan Sapozhnik
Q&A
1) What is your name? Where do you live?
My name is Ivan Sapozhnik and currently, I live in Munich, Germany. I moved here almost 5 years ago. But originally I'm from Ukraine.
2) Introduce yourself. Education? Background? Main job? Interests outside of tech? Interests inside of tech?
In university I've been studying mechanical engineering but when I graduated I felt that programming excites me much more. Especially when Apple introduced their first iOS SDK in 2008 and iPhones proved to be "the next big thing". So I started looking in that direction and officially my iOS career started in 2011. Fun fact - I have two personal apps in the Mac App Store even though, commercially, I've been doing iOS apps only :) Speaking of my commercial experience. Throughout these years I've been working at various big and small companies. Some of the well-known names: Ricardo.ch (swiss folks definitely know that name), Autoscout24, DriveNow, Sixt. I also have some hobbies outside of tech. In the past I've been doing some woodworking - I had my own brand of pet houses. Probably this carpentry passion came from the fact that in tech you can't really "touch" your product, can't feel the texture, smell it. That's why I like to have my hands dirty when it comes to building something from wood yourself. Other than that I like snowboarding, digital photography, and motorcycling.
3) Have you ever considered yourself an indie developer? What got you started/interested in creating your own applications outside of your "normal" job?
At the moment I would not consider myself as an indie dev. I think the real indie dev is the one who lives from his own apps. Since I have a full-time job I think I'm not the real indie, yet. But this is something I'm looking for. Maybe at some point, I would be able to quit and focus only on my own apps ❤️ But for now I just make apps to solve my own problems, to have fun, or to try some new technologies. As I mentioned before I don't have any personal iOS apps - only macOS apps. This is because macOS development for me is a huge new and unexplored world! Sandboxing, bindings, XPC… There is so much to learn and to try! My first app was Altum - a GUI around simctl command. I made this app to simplify my own work. Also, I wanted to try some custom drawings on macOS. In the end, I think the app looks completely non-native :D But I learned so much! Also along the way, I open-sourced some of the components on my GitHub (like Popover and Menu components).
4) How do you balance your time between friends/family, work, hobbies, and indie dev?
This is something where I am really failing and need to learn a lot. For one and a half years I am a happy father to my little son. And together with all that awesomeness that little ones can bring to your life, there is something where I noticed I'm not doing well. It's how to find the right balance between family, hobbies, and indie dev. I think you, Josh, know what I mean ;) We even had a thread on Twitter together with Khoa (@onmyway133), Wessley Roche (@wessley), and other folks about that. Some people are trying to wake up early in the morning to get some stuff done. Some, including myself, are trying to work on their apps at night. I'm not an early bird (or maybe I just need to build this habit) that's why so far I've been working on my projects at night. Also what I'm trying to do is to split all my tasks into tiny little subtasks. Like really small pieces. For example: prepare app store texts, prepare screenshots. Some may say that having these small tasks and iterations will make me slow. But for me having a checkmark in front of even the smallest task is already a step forward. In the end, it's always a tradeoff - either you try to allocate just a bit of time and you do some small steps or you can steal this time from your family. What I noticed is that whenever I do a break (like one week I'm not even thinking about my apps) it's difficult to get into the flow again. So this is something I still have to learn: how to keep myself motivated and so on.
5) Pasty - Congrats on your recent launch of Pasty! I've never really used a clipboard manager before but I was intrigued when I saw your launch of Pasty 😇 When did you get started working on Pasty? What was your inspiration?
Thanks, Josh! I started working on that app in September 2020. And I was almost done a few months later. Somewhere around that time, some other folks released their similar apps and I've lost a bit of motivation. I've been using it myself and I completely switched from the competitor app. Speaking of that app - it's a really famous clipboard manager and if you compare that app with mine you will find a lot of similarities ;) But due to the monetization strategy, they have chosen I could not use it anymore - this was kind of a trigger "Hey, I can make my own clipboard manager!".
6) Pasty - I'm so in love with the Pasty app icon 😍 It's stunning and fits so perfectly for Pasty's concept. Did you make it yourself? How many iterations of the app icon did you go through?
Yeah, an app icon is something that makes a very first impression on a user. So I spent some time together with a designer to put some thoughts into it rather than just have a nice-looking image :) I hope we did it well. In total we had around 7 iterations, each had about 7-10 variants. Over each iteration, we were combining some elements together and moving forward. For instance, the stack of files was in one iteration, color scheme - in another, folder shape - also some other. I was picking things I liked the most and in the end, we got our current icon. At some point, I thought the designer will hate me :D But he was super patient and professional.
7) Pasty - I think one of my favorite things about Pasty is the design of the clipboard. I love the approach of sliding in the full width clipboard window from the top. This actually makes it feel like its a native part of macOS 🙃 I'm not sure if this was the attended reasoning though! Why did you choose this approach over a normal window or a window that popped out of the menu bar? Were there any technical things that made this approach easier or harder than others?
So the idea was that the app should not distract you from the flow you are currently in - writing an email, coding, or anything else - the app should always be next to you but at the same time should not distract you. That's why I thought that having a window is not the best idea - in a multi-windows environment it might be pretty difficult to find the right one. Not even speaking that it might be time-consuming. This app was made with writers in mind (I mean those who are typing a lot on a computer) which is why I wanted to make it really fast and convenient for them. You don't even need to use the mouse - CMD+SHIFT+V will show the app, select any clip by keyboard arrows, and hit Enter - done. I believe that this approach will keep you into refactoring flow :) Also, sliding from the top feels the right position since most of the time (at least I do it like that ;) ) people are using the top half of the screen while typing something.
8) Pasty - I will often copy long tweets or emails that I'm composing incase they fail to post for whatever reason. Pasty super charges this because sometimes I've lost everything I copied by coping something else 😅 Pasty makes it so nice to go look for my thing I was trying to post or send! This isn't a question but have this 🏆 for saving me when other apps fail 😛
Yeah I've been there many times as well! Also Pasty has Spaces - you can think of them as bookmarks. You can put your clips there for even faster access. Or you can keep some of the most frequently used clips there. For instance, I have a Space called Work and inside I have GitHub templates for my PRs, terminal commands I'm using the most and so on - pretty convenient.
9) Pasty - What's next for Pasty?! Do you have any future features planned that you can share with us?
I would like to focus on a Search feature. The subtitle of the app says - Smart Clipboard. So I want to make my search feature really smart. Using the right search algorithms and so on. So far the search feature can already search through the content of the Text clips, it can "read" text on images and search through it and it can search clips by apps by just typing the app name. Currently, I'm preparing a release where Image clips can be pasted as plain text. The next thing I will probably do - will add a UI to filter clips by different criteria like clip types (plain text, rich text, URLs, images, etc.) as well as apps from where the content was copied. When all of this is done I plan to make mobile apps for iPhone and iPad together with sync. Without jumping into debates "is SwiftUI production-ready" I just want to try it myself :) And I think Pasty for mobile devices can be a good starting point to learn SwiftUI. The macOS version of Pasty is made with AppKit+Combine+CoreData.
10) What's been the hardest part of being an indie dev? What's the most fun part of being an indie dev?
Having an app is just the beginning of the journey. The hard part (at least for me) is to make it profitable. This includes a lot of things such as the right monetization strategy, marketing, and in general making "buzz" around the app. On the other hand, the most fun part about it is that you decide how the app will look like, what technologies you are going to use, and so on. You are free to decide on everything! In the end, it also brings more satisfaction since everything users will see - is yours.
11) Is there anything else you'd like to tell the indie dev community about you?
I think I already talked a lot :D I can't think of anything more.
12) Do you have any other indie devs that readers should follow / lookout for?
There are so many great folks out there on Twitter that's why it's hard to narrow down the list. But I will try :)
---
Newly Released and Updated Indie Apps
Here are some newly released and newly updated apps from this past week! If you would like to possibly see your app in this list, please submit your app to the look at me form 👀
The all-in-one social network for Movie and TV Show lovers. All your Movies, TV Shows, People, Streaming Services, Networks, Production Companies, Collections, and Lists in one app.
---
Thank you to everybody who made it to this footer! You either spent the time to read or took the effort to scroll 😊
Make sure to visit https://indiedevmonday.com/subscribe to get an email of future issues!
And go to Twitter and give @IndieDevMonday a follow… or multiple follows if you manage more than one Twitter account 😜