Issue #106 - Year Two Anniversary
Happy Monday, everyone!
We made it to Issue #106! Thank you to everyone who read last week's issue ❤️
Today's issue is celebrating the Year Two Anniversary!
I can't believe I've published a newsletter every week for two years 😅 Year Two included 57 developers from 17 countries! It feels so incredible being able to connect with so many talented individuals all over the world.
I wrote some words about how I felt about Indie Dev Monday for the Year One Celebration that still hold true for Year Two. Here they are for any of you that were not around for that issue:
I didn't have any expectations for Indie Dev Monday. I didn't know what I was creating. I didn't have any goals. But I kept with it. I found an amazing community. A community that always wants everyone to succeed. I found new indie developers. Developers that I follow and interact with daily. Some of these developers are now my best friends 😁

Indie Dev Monday started as a little side project. I wanted to learn about the indie developer community and test my writing skills. Indie Dev Monday turned into something more. I didn't expect it to be some people's favorite newsletter. I didn't expect it to be the reason people look forward to Mondays. But every time I get told this from subscribers it brings a tear to my eye 🥲 I love knowing that Indie Dev Monday can bring a little joy into what's been a pretty dark year. Indie Dev Monday has been one of the things that personally helped me get through the long pandemic year.
I can't imagine starting my week without Indie Dev Monday. Learning about a new indie developer is just always so inspiring and a guaranteed way to make a perfect start of the week 😊
But oddly enough, I did not plan a indie dev interview for this week 🤷‍♂️ I'm working on my plans for Year Three but I also wanted to let this Year Two Anniversay Celebration to be the spotlight…
This was an amazing year full of amazing indie developers. I want them and their creations to be recognized again.
Year Two Anniversary Celebration
To celebrate this... I'm releasing two more shirt designs on Cotton Bureau!.
All profits ($6 from each product) will get donated to Girls Who Code.
Girls Who Code is an organization on a mission to close the gender gap in technology and to change the image of what a programmer looks like and does. If you aren't able to purchase a shirt but would like to support the mission, you can donate directly to Girls Who Code from their website.
Also... my son, Hudson, was nice enough to help me model this year! We are both wearing the "Chaos Sort" shirt 😊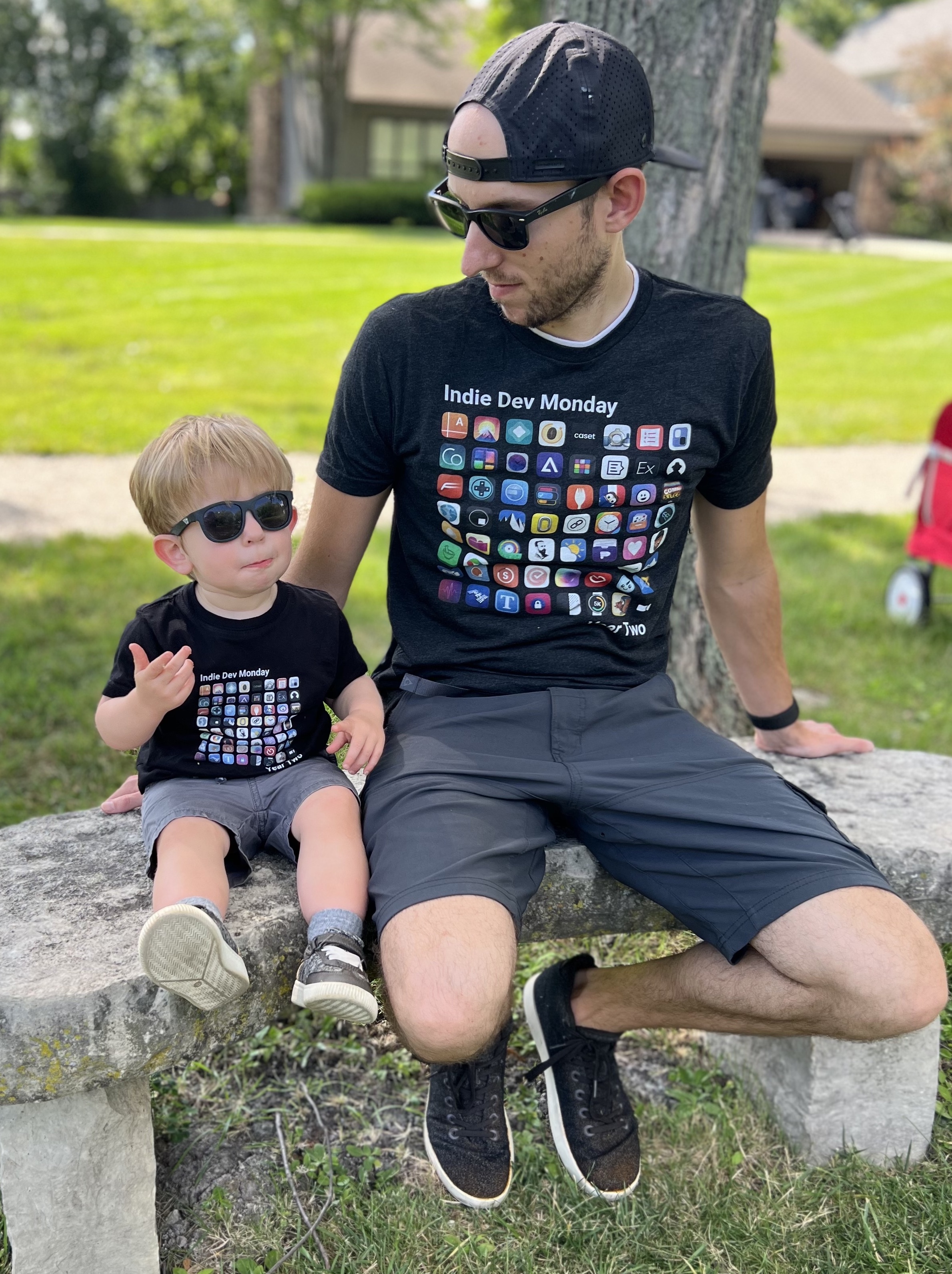 View all shirts at 👉 indiedevmonday.com/merch
More details at 👉 indiedevmonday.com/two-year-anniversary
---
That's it! That's issue today. There was a lot of time put into getting the shirts ready so this issue was a short and sweet one 😊
I hope you all enjoyed reading all the issues in Year Two! Can't wait to bring even more indie goodness in Year Three 🚀
---
Sponsored
Deep Dish Swift is a brand new conference being held in Chicago April 30th to May 2nd in 2023. The conference aims to bring togethe Swift and iOS developers of all experience levels and backgrounds in an inclusive environment to share knowledge and experience from a diverse set of speakers. The first day is focused on indie development and and the next two are focused on Swift and iOS!
---
Thank you to everybody who made it to this footer! You either spent the time to read or took the effort to scroll 😊
Make sure to visit https://indiedevmonday.com/subscribe to get an email of future issues!
And go to Twitter and give @IndieDevMonday a follow… or multiple follows if you manage more than one Twitter account 😜