Issue #41 - Ryan Klumph and Lybron Sobers
Happy Monday, everyone!
We made it to Issue #41! Thank you to everyone who read last week's issue ❤️
---
📆 Today I'm featuring Ryan Klumph and Lybron Sobers.
Ryan
is the creator of
Artbox
.
Artbox is the perfect app for parents, grandparents, teachers, and guardians to store digital records of their kids' artwork, allowing the physical build-up of clutter to be minimalized. I haven't been able to use this myself yet as my son is only 4 months old but I'm super excited to be able to use Artbox once he can start making art 😊 This is such a great app for both parents and kids. I made a lot of art projects as a child and only few of them exist today 🙃 It would be impossible and impractical to keep all of my old art but it sure would be great to be able to see more samples of what I made. Ryan's kids, however, will be able to do this 😁 And it turns out that kids might even like when you recylce their art projects as their art will now will live forever in the Arbox app. If you are a parent, grandparent, teacher, or gaurdian, this will for sure need to install Artbox!
Lybron
is the creator of
Health Auto Export
.
Health Auto Export is an iPhone, iPad, and Mac app for viewing Health app data as well as exporting health and workout data JSON, CSV, and GPX files. This is such a powerful and clever app. I didn't realize until recently that the Health app was only available iPhone and not availalbe on my Mac or my iPad 🤯 This can be an inconvience because iPad and Macs make it much easier to process and view complex data like health data. Well… Health Auto Exports solves that for us! This iPhone app can auto sync health data from your iPhone to the Health Auto Export apps on your iPad and Mac. But that's not all! It also allows automatic backups of your health data to iCloud drive and other custom locations. You can even setup Shortcut to process and send your backups wherever you like 💪 There is so much power and depth to Health Auto Export that I can't do it all justice here. You should really go downoad Health Auto Export and check it out for yourself!
👉 Please make sure to follow them or support them anyway you can! 😇 I'm excited to share their indie dev stories.
---
Indie Devs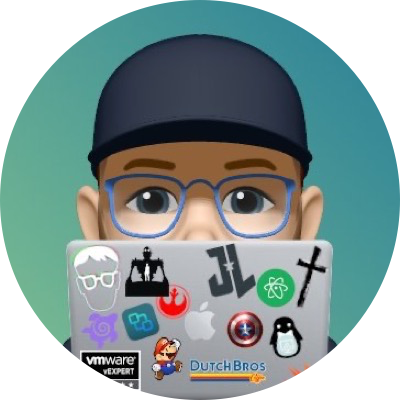 Denver, Colorado, USA
Technical Account Manager at VMware and creator of Artbox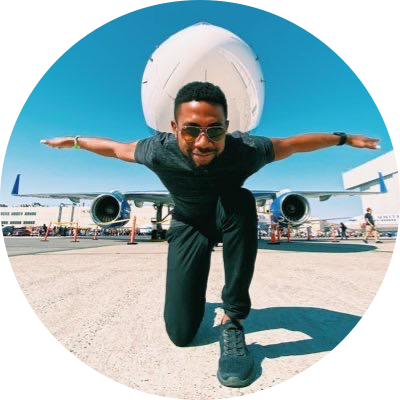 Malmo, Sweden
Web developer and creator of Health Auto Export
---
Ryan Klumph
Q&A
1) What is your name? Where do you live
Hey! I'm Ryan Klumph and I'm in Denver, Colorado.
2) Introduce yourself. Education? Background? Main job? Interests outside of tech? Interests inside of tech?
I'm a Technical Account Manager at a really cool software company called VMware. VMware pioneered datacenter virtualization 20+ years ago, and has had an exciting role in enterprise and cloud computing ever since. I've spent my entire professional career here, mostly in customer-facing roles – nothing developer focused.
Outside of tech I love traveling and camping with my family. We like to visit National Parks, go on bike rides, bring the kayaks out for a lake day… And what gorgeous day is complete without smoking a nice pork shoulder or chicken wings on a Traeger!
3) Have you ever considered yourself an indie developer?
When I had my first app published to the App Store, I felt so accomplished and proud. It didn't matter what the app did or how (not) great it was, the fact my work was on display and able to be shared with the world was an amazing feeling. The App Store page showed my name next to "Developer" so that was pretty neat to see. However I've always considered myself more of a "Professional Tinkerer" than anything else 😅 The only programming course I ever took was a Java class in college, so it's a miracle anything I touch is ever usable!
4) What got you started/interested in creating your own applications outside of your "normal" job?
I've always been interested in mobile. Back in 2010 - 2012, I was really active in the XDA community building custom ROMs for Android devices under the name Phiremod (shout out to Clay and Biff!). This was another example of tinkering for fun. I really enjoy sharing creations with the community. I later jumped ship and went "all in" on the Apple ecosystem which consequently put an end to ROM development.
Spring of 2020 was an interesting time. Quarantine was quickly becoming a thing and like everyone else, our trips to restaurants, hanging out with friends, and traveling had abruptly stopped. With the new time on my hands, I decided to pick up some new hobbies. The first of which was smoking (the kind that entails pork butts, briskets, and Traegers!). Secondly, I wanted to learn iOS development, even though I didn't really know what I wanted to do with that knowledge.
5) How do you balance your time between friends/family, work, hobbies, and indie dev?
Work Life Balance is huge. Ensuring you're doing what you can to be well rounded with your time impacts every aspect of your life – your relationships, your health, quality of living, etc. I've mostly worked from home for the last 5 years and I've found that what helps me keep balance is having a dedicated office/workspace where I can get into "work mode." Setting my working hours and adhering to them is a must. I also mostly live and die by my calendar so scheduling lunch breaks, quitting time, and after-work activities really helps!
6) Artbox - My little one is only 4 months old at the moment but I love this app idea so much! I want him to start doodling really bad so I can save his art projects in Artbox ☺️ I don't remember how many art projects my parents kept but I know they still have a few of mine at their house. What does a household look when its full of art projects? How do kids react when you take pictures of their art and then dispose(???) of it?
Congrats on the 4-month old! My kids are 4 and 7 – prime "want to draw with me?" age 😁 Trying to get your kids to get rid of things is hard. And when they are constantly drawing pictures, or building crafts, they want to proudly put them on display and show them off – and they should! We have some picture frames on the wall that easily open up and allow for quick-changing the picture. We frequently "feature" our kids artwork in these frames. We're big on encouraging them to draw and be creative but let's be honest.. we just can't keep every. single. Pokemon drawing. 😬 Artbox allowed for us to convince them that we don't need to keep every old creation, but that we can "log" it in an app, and describe why they made the project, automatically calculate their age when they made it, and take pictures of it. They love looking through the feed of their past creations.
7) Artbox - Congrats on the big Artbox 2 rework! I love watching the excitement around other developers' launch and relaunch days ❤️ What inspired you to do a big rework and make that major version bump from one to two? Was it more of a big coding change or more of a big design change?
Hey thanks! Wow this was a big undertaking for me. In all honestly I hated that I had to rework the app. But I'm thrilled with the result over the previous app. Looking back, I am glad that it happened. Artbox Classic (1.x) was built using a 3rd party "low code" IDE that utilized a custom, open source programming language. It was my first venture into app development and helped me learn a lot of the ropes. Without going into all the details, the company that made the IDE halted development of the platform. This left me with several apps stuck on a stagnant development platform that would never get updated to support newer iOS versions and features. In order to keep my apps relevant, I had to rebuild them. Instead of finding another "low code" option, I decided to bite the bullet and learn Xcode and SwiftUI which has actually been really fun!
8) Artbox - I loved reading the "Our Story" section in Artbox! There is nothing better than getting to know the developer(s) and story behind the app. I also think it's really adorable this Artbox itself is almost a family project at this point 🥰 Please take this 🏆 for making an app with and for your family! I hope to be able to do the same when one day. Also… feel free to send some screenshots of the app with your kids artwork in it if you'd like me to add it into the issue!
Hah! Thanks! Artbox was one of those ideas that while I was in the middle of building another app, my wife and I had this idea and were like… ok THAT'S a good idea.. put the other app on pause! In addition to helping come up with general user experience, my wife also created the original turtle icon! The neat thing about Artbox is that you can be as detailed as you want with your entries. You could write an essay and take several pictures of the project from every angle… or you can simply take one pic and give it a one-word title. My kids constantly ask to get their work added into the app! And yes, I made a profile for myself for those group-drawing parties 😬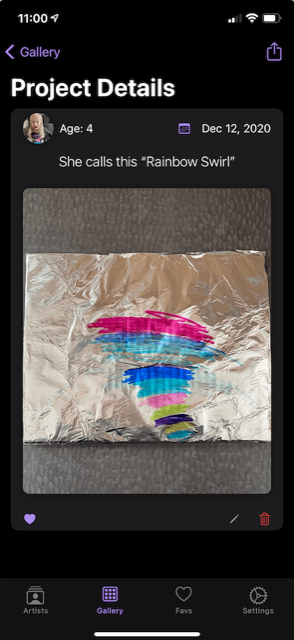 9) Artbox - Again, I'm super excited for when my little homie will start producing some artwork! I want to use the Artbox widget so bad. I can only imagine how fun it must be to see random art projects show up on the Home Screen 🤩 Is the widget as fun as I think it is? Do you have any plans for configuring widgets per artist? Would be really cool to have one widget per child.
It's so fun! Just like how the Apple Photos widget is great for reminiscing, the Artbox Widget is perfect for featuring your awesome kids' creations! The widget is wicked basic right now - it simply cycles through the App Gallery every hour and displays the first image of a project. I would love to get additional customizations and configurations in there. This will certainly be a focus in future updates!
10) Artbox - What was the most challenging thing you came across while working on Artbox? What was the best or most fun part about working on Artbox?
Tackling the widget to display records from Core Data was a challenge! So many posts out there talk about how easy widgets are but I personally struggled with that one! The biggest "break through" moment for me however was getting Core Data + iCloud Sync working. The moment when you witness that first persisting object … oh man.. so exciting! (HUGE shoutout to Donny Wals!).
11) Artbox - What's next for Artbox?! Do you have any features that didn't get released with the Artbox 2 launch that you want to share?
I would love to see iCloud Sharing. For example, say "Dad" has the app on his phone and snaps a bunch of projects, then "Mom" gets the app - it would be great to be able to share the artist profile between the two iCloud Accounts. From what I understand, this isn't available today with a Core Data + iCloud combo setup like Artbox is today. I'm also excited to mature the app over time as SwiftUI matures, and as I continue to grow as the developer!
12) What's been the hardest part of being an indie dev? What the most fun part of being an indie dev?
Programming doesn't necessarily come easy to me. I honestly find almost everything about it challenging! But it's also very rewarding. Seeing your (never) finished product behaving like you intended it to, and finding that others enjoy using it makes it all worth it.
13) Is there anything else you'd like to tell the indie dev community about you?
I become best friends with anyone who throws Seinfeld quotes into everyday conversation.
14) Do you have any other indie devs that readers should follow / lookout for?
I love this question! I've really enjoyed @joost_akker's work on PiHole Remote. Also @breakthesystem is doing some really great things with AppTelemetryIO.
---
Lybron Sobers
Q&A
1) What is your name? Where do you live?
My name is Lybron Sobers. I currently live in Malmö, Sweden but I was born and raised in sunny Barbados. There aren't a lot of us iOS devs on that little rock in the Caribbean :)
2) Introduce yourself. Education? Background? Main job? Interests outside of tech? Interests inside of tech?
I've always been into sciences. My bachelor's degree is in Aeronautics, and I completed my private pilot's licence and instrument rating during my time studying. With regards to programming, I'm a self-taught developer who learned by watching WWDC videos, YouTube tutorials, reading ebooks, and trial and error.
My main job is in web development these days doing both frontend (Angular, Elm) and backend (Node, Elixir, Mongo, Neo4j).
When it comes to tech, I'm very much an Apple nerd–I watch every product announcement and listen to all the earnings calls. I've stepped into some other interests like machine learning and robotics, but Apple platforms are where I get the most pleasure.
Outside of tech, I do whatever I can to look after my health and wellness, so I'm at the gym really often. I love Formula 1 and football/soccer, and occasionally, I'll find a show I get really sucked into–Ted Lasso and For All Mankind if anyone's looking for recommendations.
3) Have you ever considered yourself an indie developer?
I'd definitely consider myself an indie developer. Where I started was in creating things I wished existed and wanted to use myself, and I figured there would be other people who would find some utility in those tools as well. Though I'm employed full-time nowadays, it would be great, and it's the hope, to become fully independent and work on my own projects full-time.
4) What got you started/interested in creating your own applications outside of your "normal" job?
The interesting angle for me, being self-taught and (at the time) living in a country where there's not a huge tech industry, meant I dove straight into creating applications on my own rather than having a normal job. It wasn't a quick way to make money but I thoroughly enjoyed every minute of it. Then, and now, I still continue to enjoy the autonomy and range of skills I have to employ in order to do bring a project to life.
5) How do you balance your time between friends/family, work, hobbies, and indie dev?
It's definitely a challenge having a full-time job and trying to build an indie app business on the side. There are some interests/hobbies that have taken a back seat as I put more energy into my apps but it doesn't feel like a sacrifice at all. I do, of course, make sure I take time to actually unwind. I'll typically go to the gym, do a yoga session, or go for a walk in the park or in the forest. I'd say nature is my best friend when it comes to taking some down-time.
6) Health Auto Export - I realized how bad I needed this app once I found out about it 😁 I don't like not having my data backed up to multiple places or… to nowhere incase of the Health app. When did your interest in Health data start? What triggered you to start creating Health Auto Export?
It really started when Apple Health/HealthKit came to be and I started learning about the Quantified Self movement. That made me interested in analyzing my own metrics and seeing what interesting insights I could derive from them. At the time, I had been using Fitbit products and it was insanely frustrating when they decided not to support direct integration with Apple Health. Once the Apple Watch came along, I was on board, and I could access all my data in once centralized repository.
The difficulty then became that exporting from Apple Health meant exporting one huge XML file that can take forever once you have a couple years of data in there. I decided to create Health Auto Export so it would be easy to selectively access that data, and export in a ready-to-use format, like CSV, for consumption.
7) Health Auto Export - I just learned today that iPad doesn't have the Health app on it 🤦‍♂️ Which… I'm slightly embarrassed about because my iPad is my main work device. I love that I can view my health data on my iPad now with Health Auto Export. I've been sitting here the past 15 minutes looking at all the different graphs on my iPad instead of writing these questions 😛 Was iPad syncing in your sight on day one of development? Did you intend the main usage of iPad to be look at the graphs easier when you developed the sync?
My day one vision was a bit more focused on covering as many data types as possible–there are so many and more are added every year. The idea of cross-device sync really came from market demand. While this would have been relatively easily achievable to do across iPhone and iPad, it was with the introduction of SwiftUI, and the possibility to share and scale UI from the Apple Watch all the way up to the Mac pushed me to make the leap. It has been a fairly substantial challenge but I've learned so much along the way!
I think one aspect of the desire for cross-platform support is visibility for sure–to be able to see your graphs on a large screen as opposed to a phone–but I think it's also a matter of convenience for lots of people. If the aim is to visualize data in Excel, or run some kind of analysis using R, for example, it's subtly different but much more efficient workflow to be able to view and export that data directly on iPad or Mac, as opposed to having to run the export on iPhone then AirDrop to another device, or upload to a storage service first.
I get feedback emails with several types of use-cases for the app, and it's really exciting to see the diversity of creativity.
8) Health Auto Export - I think my widgets found a new permanent home on my Home Screen 😎 There are a few metrics that I like to look at daily that I have to dig into the Health app to find but now I can see them on my Home Screen! I have a graph of my average heart rate on there right now. My average heart rate has been 70bpm all week but today is was 90bpm. I think its because I was standing for 2 hours while holding my son while recording the podcast 😛 How excited were you when widgets were announced at WWDC last year? Widgets seem like a super amazing add-on to what Health Auto Export already offers.
I know what you mean about your heart rate while standing, I get that too! It's fascinating how you can get these insights at a glance and correlate them with certain action and behaviors! That's what excites me when I work on this.
Widgets were a godsend! I knew they would be a hit when it comes to health data, so I aimed to have support ready on day one once iOS 14 dropped.
9) Health Auto Export - It seems like there is could be a lot of good that can come out of owning your raw Health data outside of the Health app. Do any users ever share anything with you about how having this kind of access to their data has helped improved their life? This feels like it would be really rewarding!
This is the absolute most rewarding part! I have a quite a few stories. The most impactful have come from folks who described how having access to their health data allowed them to share information with their doctor that wouldn't be otherwise accessible outside the clinical setting, such as Irregular Heart Events (Afib) and High Heart Rate Events. They've described how this data provided more context to their doctors and got them the treatment they needed.
I've also had the pleasure of seeing users build projects and integrations on top of Health Auto Export, like using the API Export feature to create an open-source project for syncing Apple Health data to AWS S3, then visualizing the data on a personal dashboard, as well as creating home automations centered around health data.
I know this is just the tip of the iceberg of what's possible.
10) Health Auto Export - There are sooooooo many different data types that the Health app can record and that Health Auto Export can receive. How do you go about testing all of these different health metrics? Are there any good methods for inserting fake data for all the metrics so that you can make sure you export and chart them correctly? I have zero idea if Apple provides any tools for this so I'm really curious 🙃
This! This is one of my biggest challenges, but a fun one that keeps going. Some types of data are super simple to replicate and test, like step counts and energy burn. It's easy to create test data, or use my own data from my own activity in these cases.
In other instances, I had a hard time testing Heart Rate Notifications/Events, because the relevant data is actually spread across a few different types. For example, the heart rate event data will show when it started and ended, but the heartbeat data is stored separately from the heart rate event, so I do some magic (or try to) in order to pull it all together to provide an export that is meaningful to the user.
Another challenge here is that it can be more difficult to represent certain data in one format vs another, such as CSV vs JSON. JSON allows for much more detail in an export but CSV is something most people are familiar with.
In terms of tooling, the iOS simulator is also really valuable because it's possible to test data types that can't be created manually on a real device.
11) Health Auto Export - What's next for Health Auto Export?! Got any fun future features that you can share with us?
I feel like there's enough work for a lifetime in this. I still haven't covered all the possible data that can be exported from Apple Health. I think where it's especially lacking is in women's health. There's quite a lot of Cycle Tracking data that I'm yet to add support for (SHAME!!!). It's been requested and is definitely in the works.
Better visualization, support for more file formats, more widgets I still have ideas for, more metadata, and some top secret plans 🙃 are all on the list. There's a whole lot coming!
It wouldn't be shocking to see new HealthKit capabilities at WWDC either, so I'm ready for a busy summer!
12) What's been the hardest part of being an indie dev? What the most fun part of being an indie dev?
For me, it has been learning and engaging with the community. On the side of learning, I think these days I'm much more focused/specialized in what I work on. I'll still tinker with new technologies when they're launched, but I don't aim to be an expert in those areas, which is something I think I suffered with when I had less experience–I felt like I needed to be good at everything. I try to stick to what is relevant and complementary to my core focus. For example, WidgetKit plays very nicely with HealthKit.
You don't get all the benefits of feedback on your code when working alone either. Being able to learn from others with more experience and seeing different styles/perspectives is a huge catalyst to career development.
And when it comes to community, while I'd say the iOS community is very open, helpful and engaged, I think the thought always lingers in the back of my mind that I might be encroaching on someone's time or invading their space. I think I've gotten better at handling that, which is how I've somehow managed to end up being here! For myself, and for anyone who feels like they're in a similar position, a really good trick is to look out for those invitations to engage–when folks are asking what you're working on, or meet-and-greet Twitter threads. Don't be shy!
13) Is there anything else you'd like to tell the indie dev community about you?
Something I didn't get a chance to mention on the AppForce1 podcast was my participation in Apple's Entrepreneur Camp, supporting diversity in technology. I participated in the inaugural cohort for Black Founders and Developers in February this year. They're making a really big push to raise awareness of the program, so I'd like to do my part in sharing it here, and encourage absolutely anyone to apply regardless of skill level–the point of being there is to learn.
During the program, I got a megaton of feedback and insight into how to really leverage Apple frameworks, improve design, and grow a sustainable revenue stream. I was also able to build really great friendships where we're able to lean on each other for support and share knowledge. I can't recommend this program enough.
For anyone who wants to find me, or Health Auto Export, here's the link drop:
14) Do you have any other indie devs that readers should follow / lookout for?
---
Thank you to everybody who made it to this footer! You either spent the time to read or took the effort to scroll 😊
Make sure to visit https://indiedevmonday.com/subscribe to get an email of future issues!
And go to Twitter and give @IndieDevMonday a follow… or multiple follows if you manage more than one Twitter account 😜