Issue #118 - Rafael Conde
Happy Monday, everyone!
We made it to Issue #118! Thank you to everyone who read last week's issue ❤️
Sponsored
Deep Dish Swift is a brand new conference being held in Chicago April 30th to May 2nd in 2023. The conference aims to bring togethe Swift and iOS developers of all experience levels and backgrounds in an inclusive environment to share knowledge and experience from a diverse set of speakers. The first day is focused on indie development and and the next two are focused on Swift and iOS!
Today's Spotlighted Indie Devs
📆 Today I'm featuring Rafael Conde.
Rafael
is the creator of
Booby Track
,
Hand Mirror
,
Thwip
, and
Break This Safe
.
If you asked me to make a list of people that inspire me as an iOS developer then Rafa would absolutely be one of my top entries on the list. He has this unbelievable ability to keep crafting things that are beautiful, clever, useful, and funny. Countless people can specialize in one or two of those qualities but to consistently have all of them? That's rarer than a unicorn. Rafa currently works as the Founding Designer for Along. He is the creator of Booby Track for iPhone and Apple Watch, Hand Mirror for macOS, Thwip for Apple Watch, and Break This Safe for Apple Watch. He's also a co-host of the Layout FM podcast.
👉 Please make sure to follow them or support them anyway you can! 😇 I'm excited to share their indie dev stories.
Indie Dev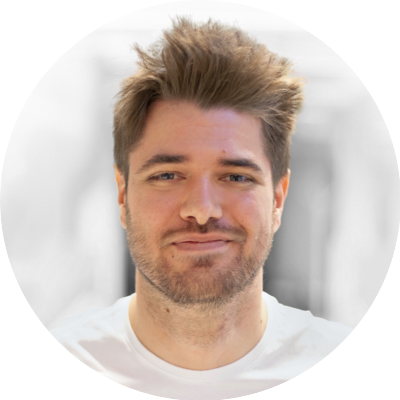 Amsterdam, Netherlands
Founding Designer at Along and Indie Developer (even if he tries to deny it)
---
Rafael Conde
Q&A
1) What is your name? Where do you live?
I'm Rafa, originally from Portugal and now based in the beautiful city of Amsterdam.
2) Introduce yourself. Education? Background? Main job? Interests outside of tech? Interests inside of tech?
I studied Computer Science in college but dropped out when I landed my first job as a designer during a summer break. Since then I've always been hired as a Product Designer but kept coding and building apps on the side — currently the founding designer at Along.
When I'm not nerding out about software I'm usually nerding out about software, but when I'm definitely not nerding out about software I'm probably watching some behind the scenes of making movies, sound design, writing scripts, etc… I'm fascinated by the act of building and creating stuff.
3) Have you ever considered yourself an indie developer?
A couple of times, for only a fleeting moment. Like right now when I was asked to write an interview for INDIE DEV weekly.
It's really hard for me to self-classify as an indie dev because I still have massive imposter syndrome around being a real developer (I'm just a designer) and also because I have a day job.
I guess my references for indie devs are still primarily exclusively solo developers and it's not helping me or anyone really.
4) What got you started/interested in creating your own applications outside of your "normal" job?
I guess the apps started even before my first "normal" job. I'm just really passionate about the indie Apple developer world, from early Mac Dev shops like Panic, to Loren Brichter, RealMac Software, etc…
Seeing and feeling the care poured into these products is just inspiring and I always wanted to be a part of that world.
Early in my career, my skills just weren't there for me to realistically design and build a whole app by myself, so it took me a while… also motivation is my most valuable currency, so if I were to get stuck in a complicated programming problem, I would lose interest.
It took the right combination of simplicity of an idea + programming skills + tools like Swift as an alternative to Objective-C that allowed me to push it over the edge, and that was a Apple Watch game called Break this Safe, back in 2016.
5) How do you balance your time between friends/family, work, hobbies, and indie dev?
It's challenging, but rewarding.
I have a 1-year-old with only two days a week of daycare, my partner and I both have full-time jobs, and we don't really have any family support here. This means that every minute of work is incredibly valuable.
I spend the days with my son, work on my day-job from 4 PM to 1 AM 4 days a week, and can work on my side projects on Fridays and when my son is napping. That's really it.
The most important thing to make this work is that I always do my best to ride a wave of excitement: if I have a new idea for a project, and I get really excited about it I just go and try to work on it, prioritize for excitement, because it turns out I'm WAY more productive when I'm enjoying the work.
6) Along - It is in early release and I love it! The first thing I thought was that it would have been great to collaborate with people during WWDC. Can you tell us about it and what your role with it is?
Along is a new modern take on video, instead of posting a static video file to a video platform, Along let's you add clips, edit existing ones, remove old ones, and effectively allow you to keep you content fresh and up to date without the need to post a new video every time, losing all the comments, views, and engagement.
It also has a strong collaborative component, making it super easy for people to submit clips to your tapes, which to your point, would make for a really fun experience at an event like WWDC, where everyone could share their point-of-view to the same Tape.
My role is officially "Founding Designer". My friend Bryn Jackson started the company a couple years ago and designed the first version — I've picked up the Product Design duties from him back in 2021, until now.
7) Along - I'm always inspired and in awe of your creativity. For example, you recently made something that could be boring (release notes) and made it unique and entertaining by doing it as a news presenter in video format. How do you even come up with ideas like these?
I don't really know how to answer this question, but I can tell you that it's really not planned.
For the Release Notes example in particular, it was just improvised, I thought "Hey, we have a video platform, why are we writing our release notes when we can shoot a video?" So the whole thing from idea to publish took me 1h or so, and I try to have fun doing it otherwise… well otherwise I am not having fun at work and that's… worse?
8) Hand Mirror - I can't believe that you made this in a weekend. I use it every month before iOS Dev Happy Hour to ensure that I'm not too disheveled. Any particular challenges with getting this working the way you wanted? Any other Mac apps in your plans?
Thank you Chris! The biggest challenge with Hand Mirror was that I haven't built a macOS app before, and like with every project I had no idea what I was doing. I gave myself a couple of hours just to see if I could show a feed of your camera on a menu bar popover, and I got it working! The rest were just details and fighting with AppKit.
The first version was rejected from the Mac App Store because it "didn't have enough functionality" – so I ended up releasing it myself for free on the website. I guess the (limited) functionality resonated with enough people in the early era of the pandemic and remote work that it landed me a feature on The Verge.
Apple eventually changed their minds, after I added a Preferences and About Window 😅
No plans for another macOS app at the moment, but I'm actively working on a new version of Hand Mirror, and it's probably my most ambitious plan to date (which isn't saying much because all of my apps are pretty simple though).
9) Booby Track) - There's so many things that I love about this project: that it helps your partner, the fun design, a name that makes me giggle. I remember seeing one of your "tapes" on Along that you had some challenges (maybe with syncing?). What were your biggest challenges with Booby Track and what parts are you most proud of? What does your partner think of the finished product? BTW, congrats on having it ready for the launch of iOS 16!
I built Booby Track to help my partner keeping track of their breastfeeds on Apple Watch, and built it when my son was just 2-months old, so I don't really remember much from that time, I was working on 20-minute bursts but the app was pretty simple.
The challenges arose when I decided to add an iOS version, and keep those two apps, complications, and Widgets in sync.
┓┏┓┏┓┃
┛┗┛┗┛┃\○/
┓┏┓┏┓┃    / CLOUDKIT
┛┗┛┗┛┃ノ)
┓┏┓┏┓┃
┛┗┛┗┛┃
┓┏┓┏┓┃
┛┗┛┗┛┃
┓┏┓┏┓┃
┃┃┃┃┃┃
┻┻┻┻┻┻
It's still not a great experience, but acceptable (?).
The parts that I'm most proud of is definitely the fact that it provides enough functionality that it can help people — help new care-givers in a time of their life where any little help can make a big difference… oh and the fact that I added jiggles and "gravity" to the UI 😅
My partner is not breastfeeding anymore, but has been and still is the whole reason why this project works (one requirement was that she had to be able to use it by tapping the Apple Watch with just her nose). She still thinks Booby Track is the best app out there to help new parents (definitely not biased).
10) Thwip - I have to ask you about Thwip because I think it's the reason I started following you when I started following Apple content on Twitter. I actually used the "womp womp" sound to make some friends laugh recently. Where did the idea for this app come from?
It makes me so happy to hear this!
The idea for Thwip came up in two parts: one day I was making the Spider-Man web shooting hand gesture, you know the one 🤘, followed by the webshooting sound effect with my mouth. It's like a private joke where I do the gesture when I wanna reach for something, because it stuck back when I was 5 and believed I could be Spider-Man one day. This one day I got the idea of making an Apple Watch app that would play the sound, and you could strap the Apple Watch around your palm and tap the screen with the gesture — that way 5-year-old-me could have some fun.
The second part came one day when I was trying to play a airhorn sound effect during a work meeting, but my convoluted setup to play sound effects wasn't working (Loopback + Farrago by Rogue Amoeba) so I wished I could play it from my watch.
Either one part would make for a too simple app, but if I combined the two it felt like it crossed this imaginary threshold that it could now qualify as a full app, and not just a little demo project.
Since you're one of the 5 Thwip users out there Chris, I hope it'll make you happy to know that I am also working on a new version, and it may or may not have some lightsabers in it?
11) As someone who has only been to Amsterdam once (and loved it), I enjoy watching your posts about it or seeing it in the background. How did you end up there and what have been some of the most unique things about living there?
I was working on my visa process to move to the US, but it was taking so long that my partner and I decided to move somewhere else for a bit while we waited — the plan was 6 months in Amsterdam, Paris next, maybe Brighton…
One week of living in Amsterdam and all our plans were out the window, we loved it here so much that we have no intention to move anytime soon. We bought an apartment, our son was born here, and it really feels like we're building a life as a family in this beautiful city. What strikes me is the balance of having the energy of a big world capital, but without the stress and noise that usually follows. It's so quiet, peaceful, pretty… we love it.
We also found a unique and thriving community of creatives and indie devs here, from Jordi, Hidde, Ryan, Pim, the Glass team, Jasper… we sometimes meet up for lunch, and the occasional Apple event viewing parties — it makes me feel part of a real local community.
12) What's been the hardest part of being an indie dev? What is the most fun part of being an indie dev?
Hardest part for me is to monetize and make a living exclusively from your own projects, and the fact that you're limited by what YOU can do. The most fun is the freedom of pursuing your own ideas, no matter how silly or "unimportant" they may be.
Being a solo indie dev is the most pure reflection of who you are as a creative, and that's by definition the most unique thing you can do.
13) Is there anything else you'd like to tell the indie dev community about you?
I adore you all, you inspire me every day, and I'd love to meet you IRL one day!
14) Do you have any other indie devs that readers should follow / lookout for?
I already mentioned some of the fellow Amsterdamers above, but here's some more:
I'll actually flip this question around and ask your readers for recommendations as well, I would love to know about other indie devs, especially from more diverse backgrounds! You can tweet me @rafahari
---
Newly Released and Updated Indie Apps
Here are some newly released and newly updated apps from this past week! If you would like to possibly see your app in this list, please submit your app to the look at me form 👀
---
Thank you to everybody who made it to this footer! You either spent the time to read or took the effort to scroll 😊
Make sure to visit https://indiedevmonday.com/subscribe to get an email of future issues!
And go to Twitter and give @IndieDevMonday a follow… or multiple follows if you manage more than one Twitter account 😜