Issue #104 - Curtis Herbert
Happy Monday, everyone!
We made it to Issue #104! Thank you to everyone who read last week's issue ❤️
Sponsored
Deep Dish Swift is a brand new conference being held in Chicago April 30th to May 2nd in 2023. The conference aims to bring togethe Swift and iOS developers of all experience levels and backgrounds in an inclusive environment to share knowledge and experience from a diverse set of speakers. The first day is focused on indie development and and the next two are focused on Swift and iOS!
Today's Spotlighted Indie Devs
📆 Today I'm featuring Curtis Herbert.
Curtis
is the creator of
Slopes
.
Slopes is the best ski tracking experience on iOS and Android! Uncover detailed stats (and bragging rights) about your days skiing and snowboarding, ride with friends, log your memories, and replay your winter adventures together. I'm not a skier or snowboarder so I'm sadly not a slopes user but I've been a huge fan and followers of Curtis and and Slopes! He has created a super successful iOS and Android app and its just been incredibly inspiring. He's transparent about his business with the challenges he's faced and overcome in his Slopes Diaries blog series. Curtis even won an Apple Design Award for Slopes at WWDC this year 🥳 I believe its an the off-season for most skies and snowboarders but you 100% need to download Slopes before you hit the slopes!!
👉 Please make sure to follow them or support them anyway you can! 😇 I'm excited to share their indie dev stories.
Indie Dev
---
Curtis Herbert
Q&A
1) What is your name? Where do you live?
👋 Hey, I'm Curtis. I'm a Philly boy who recently moved to Boulder, Colorado.
2) Introduce yourself. Education? Background? Main job? Interests outside of tech? Interests inside of tech?
My journey through tech has been a windy one. Started with Basic on the TI-82, then the web became a thing and I hopped on that in early high school, working on both front-end and backend stuff (dating myself here: this was the era of ASP Classic). I stayed focused on the web through college doing a lot of consulting on the side, ultimately landing a job at Lockheed Martin when I graduated. There I was doing Java big-system type stuff, but I was never really happy as everything moved so slow and the room to use new tech was minimal. The concept of "UX" was unheard of there as we could always just train the customers who had to use the systems we made. Thankfully I had never stopped consulting, so that was scratching my itch to do new things.
Partway into my time at my JOB-job, the iPhone came out, and that started to pull me away from the web. We started to see a new era of creativity that in apps that I had largely (but not exclusively) seen limited to the web before that. I left Lockheed, took my consulting gigs full-time, and slowly transitioned all my work away from web applications into the native world of iOS. I was so happy to be doing that — I had tried to get into ObjC and Mac development a few times over the years but it really never stuck for me.
3) Have you ever considered yourself an indie developer?
I think the better question is do I still consider myself an indie developer 🤪. But, yes on both fronts.
4) What got you started/interested in creating your own applications outside of your "normal" job?
I always had a creative itch I needed to scratch that my job never provided. I loved using technology to solve problems and making lives easier and in retrospect even back in my early days on the web building web-based applications I can see a lot of what I do today taking root there.
5) How do you balance your time between friends/family, work, hobbies, and indie dev?
Listen to my ever-wise wife when she says I'm working too much. But I'd never claim I'm great at balance; I'm kinda obsessed over my indie work and it's hard to shut that off.
But, #protip: get a separate office. For a long time I'd keep my PC gaming rig next to my work laptop on my desk, and it became a nightmare of blurred lines. Having a dedicated room I go to work has also helped a lot with that balance.
6) Slopes - OMG, huge congrats on your Apple Design Award this year 🥳 I think I had tears of happiness for you when I hear you won! This is such an amazing achievement. How does it feel?! Did you get any awesome experiences at WWDC this year because of being nominated for an ADA? And where in your house do you keep your ADA?
Thanks! You know that's one thing I've always loved about the indie Mac / iOS community - we're always rooting for each other and so supportive. Honestly I wanted one of the other apps I was up against, Transit, to win in my category because they've been in my "Inspiration" folder of apps for years. I wouldn't have even minded if I lost because they deserve one too!
It feels pretty amazing — I've been working hard for so long trying to build "the ski app Apple never built" (actual customer quote) and it feels validating that I'm living up to some pretty high standards. After spending years obsessing over not just design but making a lot of my interactions feel more natural and human, it feels great to know it didn't go unnoticed.
At WWDC, they had a nice reception after the award ceremony for all the finalists where we got to mingle with some great people inside Apple for a bit.
The ADA has a nice spot on my desk, of course!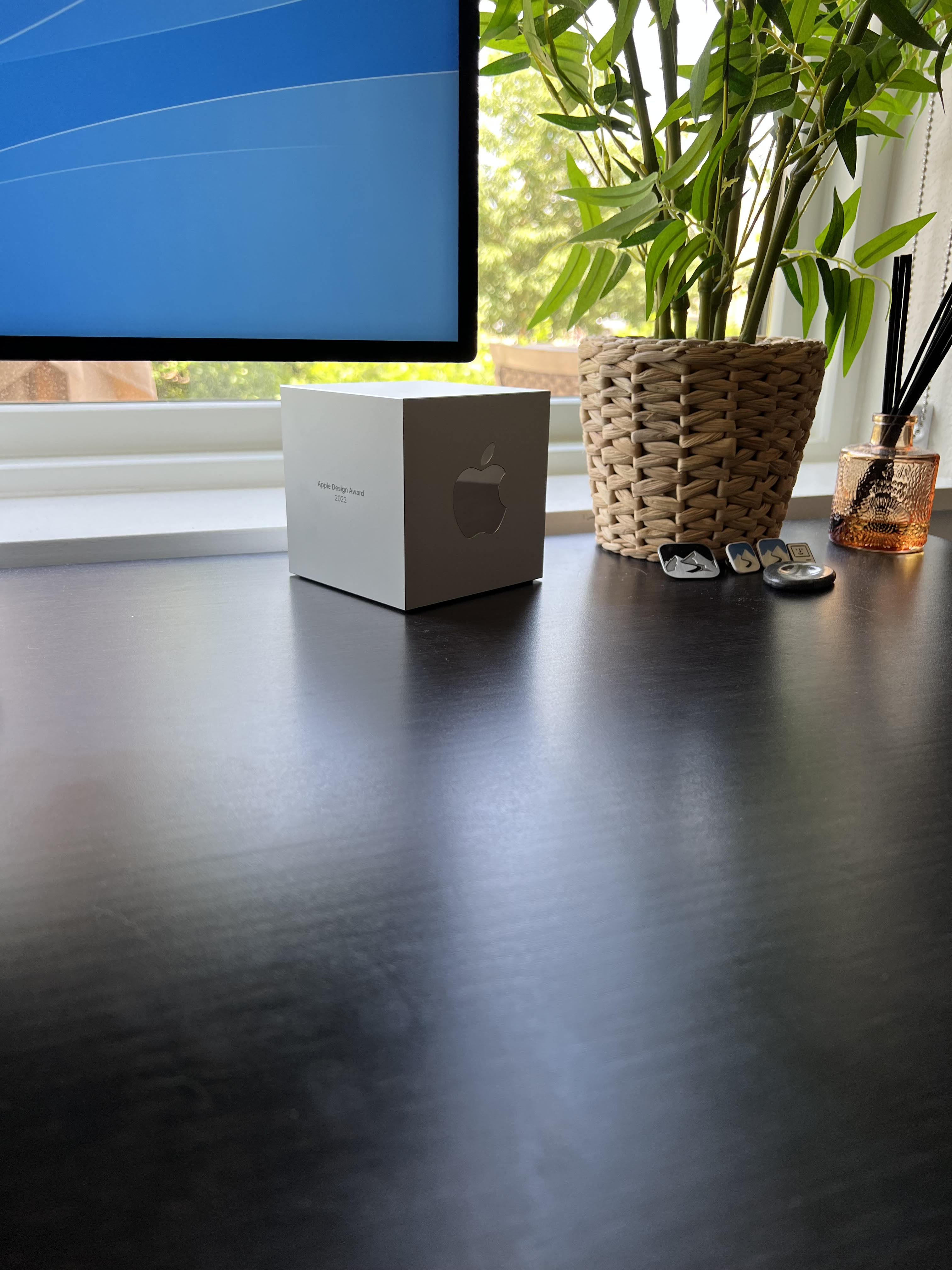 7) Slopes - I've been a huge fan of you and Slope for so long! However, I'm not a skier or snowboarder so I'm sadly not a Slopes user 😔 But how did you get the idea to start building Slopes? Did you initially build it as a fun app just for you or did you always have intentions of trying to turn Slopes into a full-time job?
The idea for Slopes came because I was learning to snowboard (after skiing my whole live) and the other app I was using just wasn't living up to the UX I wanted to see. It was a well-built app, but very much suffering from a bunch of stats and graphs vomited onto the screen. I always wanted an app that focused not just on the stats but also helping me relive the memories — more of a journal.
When I started I certainly wanted it to get big one day, but I didn't see that happening fast (if at all) in my mind. My first season I made <$1,500 IIRC (this was in 2013 where "big splash" launches were "the way you do things", so that was a disappointing number).
In 2015 I took a hard look at things and decided I was going to give Slopes a real go at being a business. I had gotten a few customers who really loved it so I knew I had something here but somehow it just wasn't clicking. Things were holding me/it back. Up until then I had been following the conventional "build a great product, charge $$ up-front" way to do software, which frankly wasn't working. Since I had such a long background in the web world I decided to do what they had been doing for a decade - use subscriptions and focus on recurring revenue. At the time apps couldn't use auto-renewal (that would come a year later), so not a lot of apps were doing it, and I had to pull from the web for a ton of inspiration on how to do things.
It was a bit of a gamble, I spent all summer / fall reworking the app to be freemium and build a subscription backend, but I thought it was the way forward.
A year later I was able to go full-time.
8) Slopes - I love love love your "Slopes Diaries" blog post series! I really appreciate when other indie devs are willing to open up their development process and business thought. It's very inspiring and educational. How do you decide what you want share in each of your blog entries? Do you ever go back and read them to remind yourself of some of the things you've learned in the past?
Being open about things is super important to me. One of the things I hated seeing other companies do was talk about things in the abstract. I remember one app talking about how important paid upgrades were, showing a huge spike then long-tail drop off of sales after the upgrade came out. But without Y-axis numbers we had no context! That long-tail could still be $1k per day, it could be $100 per day. With all that lack of transparency I felt a lot of people getting into app development wouldn't realistically know what to expect, and might give up too easily if they didn't see a massive day-one sales spike and overnight success (a holdover from the gold rush era of iOS).
Mostly I just try to write about the things I struggle with, or the a-ha moment. Whatever I'm experimenting with (from a business perspective). But importantly, I just try to keep writing. I don't want to be one of those people that'll write a ton in the early underdog days but then stop when they find success (although I see the difficulty, it can be hard to not feel brag-y when you cross $1mil in ARR). I think the whole journey is important, and it's a good cheat-sheet for me to go back and remember when I did or didn't try something.
9) Slopes - What has been one of your favorite things to build in Slopes? What was one of the hardest?
I love seeing something come together from an abstract idea to something my finger interacts with. My favorite was probably when I pioneered the virtual 3d mountains that Slopes uses to render people's recordings using real terrain data. It was something I knew was possible but I hadn't seen anyone really do in a fun consumer way yet (this was long before things live Relive and Mapbox's 3d maps). It was super rewarding to be able to play around with the mountains in 3d once I got that up and running.
Hardest has probably been the long journey of the GPS tracking algorithm. Slopes works world-wide, even in the backcountry, so it has to be able to figure out if you're going up a lift or skiing downhill based on GPS alone, without knowing anything about the resort. It's had to evolve a lot over the years and it's not as simple as "is altitude going up, or down" that I thought it would be when I set out to do this.
10) Slopes - How do you handle and how do you like the Slopes business has seasonally to it? Does it nice to have the downtime in the spring and summer to work on new features? Or does the stress of high demand winter overshadow it?
I've come to like it, for the most part. It gives and ebb and flow to what could otherwise be just a never-ending march. Yeah it lets me spend the downtime in the spring/summer/fall focusing on the bigger / more ambitious projects without having to be interrupted with a bunch.
But it isn't without its downsides. Right now (summertime in the northern hemisphere) I'm earning <10% of my operating costs per month in revenue so it's a constant bleed on the bank account. Basically I get a bag of money Jan through April and then that has to last me until the following January. Plus any experimenting I want to do, any A/B testing, I have a (realistically speaking) 2 month window with real meaningful data of a big enough sample size to do it within. So it presents some unique challenges, too.
11) Slopes - What's next?! Do you have a future features planned that you can share with us?
Last year we finally launched a redesigned recording screen with interactive trail maps and a "Find my Friends" kinda thing, and I want to keep building on that. I've been working for almost 2 years now towards the idea of becoming the Apple Maps of ski resorts and we're partway there with those interactive maps being live. We've spent probably over a thousand hours (with 5 contractors) manually mapping out ski resorts via satellite maps. But my endgame with this multi-year project has been to be an assistant on the mountain, making it super easy to get directions from where you are to your friend or to the lodge. Knowing how to get around at an unfamiliar resort is a challenge we all face, regardless of experience level, and I want to lower that barrier to entry of the sport.
12) What's been the hardest part of being an indie dev? What the most fun part of being an indie dev?
Keeping the idea of "me" and "my product" separate. When you're passionate about what you're building it can too easily become all you talk about.
But at the same time, blurring the lines can be fun. I'm known as "The Slopes Guy" by customers and we actually have kinda a Where's Waldo thing going on the mountains that if they find me they get some swag. When I moved to Colorado it was actually a cool way to meet new people and I ride regularly with some of them now.
13) Is there anything else you'd like to tell the indie dev community about you?
Nope! But if they have any other questions I'm always happy to chat on Twitter!
14) Do you have any other indie devs that readers should follow / lookout for?
You know I had to spend a lot of time cmd+f'ing your archive page, you've spoken to so many I look to for inspiration already! But I didn't see Conrad Stoll on the list, so I'll give him and his indie app Groceries a shout-out.
---
Newly Released and Updated Indie Apps
Here are some newly released and newly updated apps from this past week! If you would like to possibly see your app in this list, please submit your app to the look at me form 👀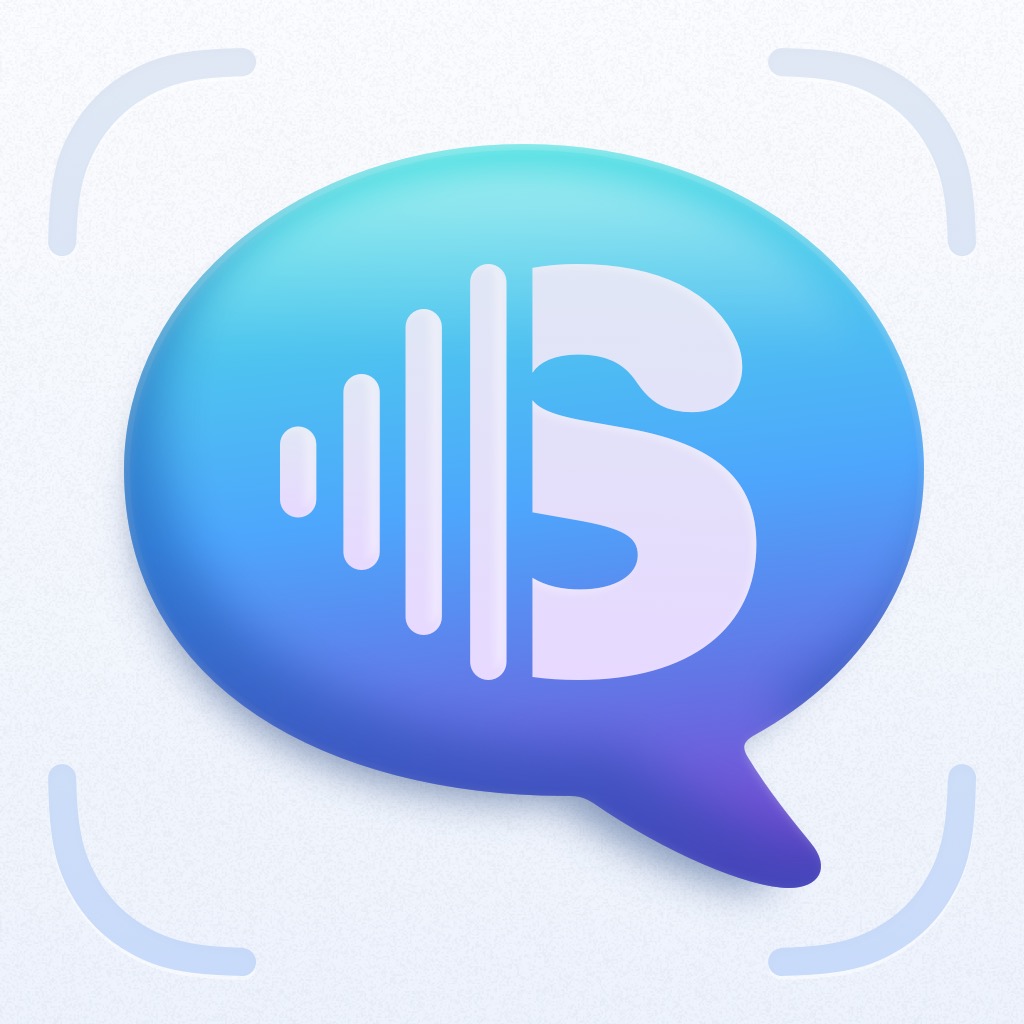 Scusi adds transcription and playback speed control directly in iMessage. Just drag and drop any iMessage voice note onto the Scusi overlay to transcribe it. We got annoyed with the voice note player in iMessage, so we made it better.
---
Thank you to everybody who made it to this footer! You either spent the time to read or took the effort to scroll 😊
Make sure to visit https://indiedevmonday.com/subscribe to get an email of future issues!
And go to Twitter and give @IndieDevMonday a follow… or multiple follows if you manage more than one Twitter account 😜